Alpharetta Car Accident Lawyer
A Car Accident Lawyer That Cares About You
Have You Been Involved In A Car Accident?
Have you or a loved one been the victim of a car accident caused by someone else's negligence? Our Georgia personal injury attorneys can help you receive full and fair compensation.
At The Fitzpatrick Firm, LLC, we represent our Alpharetta car accident clients to secure financial recovery from medical treatment and lost income, while working tirelessly to hold the liable party responsible for your pain and suffering.
Why Choose The Fitzpatrick Firm For Your Car Accident Case
If you sustained serious injuries, lost wages, medical bills, or other hardships related to your Alpharetta car accident case, our lawyers are here to help recover compensation. If you've lost a loved one and are pursuing a wrongful death claim, we understand how difficult it is to cope with another driver's negligence causing your loss.
Whatever the details surrounding your personal injury case, you need a lawyer who is an expert in Georgia law to help.
The Fitzpatrick Firm's team of dedicated, trustworthy, experienced attorneys has succeeded in securing financial compensation for our car crash victim clients. When handling your personal injury claim, we will help and guide you through the process of speaking to your insurance company as well as gather evidence that will prove negligence in obeying GA traffic laws.
A reckless driver can change your life forever, and our lawyers have a legal duty to help you seek the compensation that you deserve. Contact us today for your free consultation to discuss the circumstances surrounding your car crash case.
What Steps Should You Take At The Scene Of A Car Crash In Buckhead, Georgia?
If you're involved in a car accident in Buckhead, there are a few things you should do to ensure everyone's safety and to protect your legal rights.
Working with an Alpharetta GA Car Accident Lawyer
When you meet with one of The Fitzpatrick Firm's car accident attorneys during your free initial consultation, we will review your case and discuss the strategies for proving fault of the negligent party.
When representing you in your Fulton County car accident case, our law firm will strive to pursue compensation for:
Past and future medical expenses.
Physical therapy costs.
Lost income from not working.
Loss of future income if you are unable to work.
Damages to your vehicle.
Pain and suffering.
A car accident is a traumatic experience. When it results in serious head injuries and spinal injuries or the death of a loved one because someone did not follow traffic laws due to reckless driving, it can be extremely overwhelming and emotional.
Dedicated and Experienced Representation
During this difficult time, you deserve to have a law firm on your side that believes the other driver should be held accountable for the pain their distracted driving caused. Our Alpharetta auto accident attorneys will fight on your behalf to recover damages during this difficult time in your life.
From assisting you in finding resources to seek medical treatment or file your insurance claim, our GA lawyers know how difficult it is to deal with the stress of talking to your own insurance company while recovering from your car accident injuries.
Our personal injury cases are handled with compassion, empathy, dedication, and tenacity from the very first day of your free case review to the moment justice is served.
Types of Cases Handled by the Fitzpatrick Firm in Alpharetta GA
The Fitzpatrick Firm's car accident lawyers represent the following types of cases for our Alpharetta area clients:
Distracted Driving
The at-fault driver was texting, on their phone, or doing some task while they should have been paying attention to the road.
Drunk Driving
When someone is under the influence when driving they are knowingly putting themselves and others on the road at risk, as alcohol diminishes coordination and reaction time while influencing bad decision-making.
Speeding
When someone drives too fast, they are not giving other drivers the opportunity to slow down or react to their speed. This often leads to accidents that could have otherwise been avoided if the driver was complying with the legal speed limit.
Tailgating
If someone is tailgating, following too closely behind the car in front of them, they could cause a serious car crash that results in the other driver needing to seek medical attention.
Rear-End Collisions
Sometimes caused by tailgating, rear-end collisions put both drivers at risk when the person in the front car has to quickly stop without giving the driver behind them a sufficient warning.
Reckless Driving
Reckless driving is dangerous and often results in serious injuries caused by swerving in and out of traffic, speeding, running stop signs, and/or road rage. Many car crashes caused by a dangerous driver behind the wheel result in severe injuries.
Hit and Run Scenarios
If someone leaves the car accident scene where someone is hurt or dead, the victim or victim's family is owed damages for their pain and suffering and other expenses. It's often difficult to secure compensation for a hit-and-run case where the at-fault driver left the scene.
Road Construction Accidents
Construction of our road infrastructures is an asset to the Alpharetta community, but if there are no warning signs of upcoming construction such as cones, signs, barriers, or lights, construction can cause a car crash.
Uber or Other Ridesharing Accidents
The purpose of Uber, Lyft, and other ridesharing apps is to provide you with safe transportation. When an Uber gets into an accident and you sustain injuries, there are ways to seek compensation.
Services Offered By An Alpharetta GA Car Accident Attorney
Insurance companies may try to offer a minimal settlement that doesn't factor in the extent of your pain and suffering, or they often try to prevent a payout altogether by painting the accident as your fault or insinuating that you weren't seriously injured. Having an experienced auto accident lawyer in Alpharetta who knows your rights and understands how to maneuver the complex legal process to take the fight to the insurance companies can lead to a more favorable outcome.
We can guide you through the necessary paperwork, investigate your case, and gain witness testimony to strengthen your claim.
Let's look at some of the many ways our law firm will fight on the behalf of those seeking compensation for serious injuries related to car accidents.
Free Consultations and Case Evaluations
A lot of law firms will set up a quick initial consultation free of charge, but during that short meeting, you barely get the chance to have them evaluate your car accident details. Your Alpharetta car accident lawyer from The Fitzpatrick Firm will not only hold a free consultation, we will provide you with a free case evaluation to discuss possible strategies we would use in your auto crash case.
Comprehensive Knowledge of Georgia Laws and Regulations for Auto Accidents
Our educated and talented attorneys have comprehensive knowledge of the law and how it is tried in Georgia. We understand the precedent set by previous cases and have successfully represented clients in securing damages related to the insurance company, medical compensation, wrongful death, and more.
Negotiating Settlements, Mediation, and Going to Court if Necessary
Our firm's car accident lawyers have negotiated and mediated cases that resulted in multi-million dollar settlements. Our extensive experience in working in a Georgia court of law as well as our skills in persuasion have equipped us with the best tools and strategies to represent our future clients.
Assistance with Insurance Claims and Payment Disbursement Issues
During this stressful time of recovering from your car accident, your law team will handle the burden of insurance claims and the pursuit of reimbursement for medical bills, physical therapy, and other medical treatments or services.
How Our Alpharetta Car Accident Attorneys Will Take The Pressure Off You
Many things happen after a car wreck. Can we fix our cars? Who is going to pay my medical bill? Can I go without getting paid for a month, or two at the least?
Our lawyers will answer these questions so that you can begin your recovery journey. When you select the Fitzpatrick Law Firm, we will help you with the personal injury claims process.
This includes:
Filing the police report
Gathering evidence
Taking pictures of the car accident scene
Hiring experts, when necessary
Contacting witnesses
Preparing and filing legal documents
Negotiating with the insurance company on your behalf
Pursuing a settlement or taking your case to court, if necessary
Your Buckhead car accident lawyer can take all of this off of your plate so that you can focus on healing from your injuries. We have over 30 years of combined legal experience, we know what it takes to win your case, and we are here to help you every step of the way.
Serious Car Accident Injuries And Damages We Recover
The spinal cord, back, and neck injuries
Broken bones and fractures
Brain and head injuries
Loss of Life or Death
Pain and suffering
Loss of consortium
Punitive Damages
Disfigurement
Intentional infliction of emotional distress
Property damage
Alpharetta Car Accident Attorney FAQs
How can a lawyer help you after a car accident?
Even though the law allows self-representation, you lack the knowledge and experience required to successfully negotiate with an insurance company. Google cannot provide you with all the answers you need to build up a strong case. Our Buckhead car accident attorneys will answer all your questions because they constantly stay up to date on recent amendments to the law for car accidents and insurance claims.
If you have suffered severe injuries, then you need plenty of time to receive medical care. Trying to win a case by yourself while dealing with the stress of the unknown affects your health and recovery time. Why do you need an attorney? Because negotiating and litigating personal injury cases take plenty of time and can get messy especially when there is a dispute as to liability. A long, drawn-out process can affect your health and results.
How long after an accident can you sue in Georgia?
In Georgia, most vehicle accident victims have a period of two years to file a suit (GA Code § 9-3-33 (2014)). This duration allows all injuries sustained during an accident to manifest and appropriate legal action to be taken.
However, waiting for too long affects your chances of recovery because the evidence of the car crash may disappear with time. The at-fault driver's insurance company can dispute liability if you provide a statement that's inconsistent. If you fail to secure the evidence in your case and wait too long to hire an attorney, you'll face an uphill struggle in court.
The best time to hire a personal injury attorney is immediately after an accident. Why? Because you'll produce highly accurate statements when the incident is fresh in your mind.
Also, a thorough medical diagnosis can stop the insurance company from disputing your injuries. These are all key to preparing to receive a fair and just recovery for your injuries.
After reporting the car accident, you may receive phone calls from the other driver's insurance company. You should not give a statement without first consulting with an attorney from The Fitzpatrick Firm, LLC.
If you are confused or unsure about some aspects of your car accident or personal injury, you may make a statement that could hurt your ability to make a recovery.
Hiring an Buckhead car accident attorney from The Fitzpatrick Firm, LLC enables you to get the best compensation and recovery by letting someone well-versed in insurance laws do the talking on your behalf.
How long do you have to get an injury checked out after an accident?
You should seek medical attention immediately after a car accident. Immediate medical care is key to the proper diagnosis and documentation of injuries.
If you fail to seek immediate medical care, your injuries may go undiagnosed. Also, the insurance company may use any gap in treatment to minimize your recovery. Thus, it is imperative that you seek immediate medical care and hire an experienced personal injury lawyer.
Should you still go see a doctor after a minor car accident? Yes, you should. A car accident puts the mind in a traumatized state. In order to cope with the high stress of the situation, your brain produces adrenaline and other hormones.
That's why you may not feel any injuries on your body because the combination of hormones hinders your nerves from transmitting pain signals from injured body parts. What may appear as a minor car accident injury may manifest itself as a major injury to your body in the days, weeks, or months to come.
How much do you get for pain and suffering in a car accident?
There is no amount of money that can truly calculate the lasting trauma caused by a car accident. Pain and suffering are legally determined by the enlightened conscience of impartial jurors. There is no mathematical formula for calculating pain and suffering.
However, your award should account for impairment of bodily or physical faculties, the loss of one's ability to work and labor, mental anxiety, the dread of physical suffering, and any suffering reasonably certain to continue in the future.
Such loss or impairment of any power or faculty is a matter of compensation and may be considered in determining damages for pain and suffering.
How long does it take to settle a car accident in Georgia?
Each case is different and the process can move slower or faster depending on the complexities of the case. Our firm will generally not send a demand to an insurance company until we know the full extent of your injuries and have thoroughly investigated the case.
You would never want to accept a settlement on a life-changing event like a personal injury until you know exactly how your life will be affected moving forward. Once the case is settled, you'll receive the settlement within weeks.
If you only sustained minor or major injuries, get a car accident attorney immediately and start building your case. At The Fitzpatrick Firm, LLC, we have the reputation needed to get you the best recovery.
How much does an accident lawyer charge?
The typical legal fees in Buckhead, GA range from 33%-40% of your total compensation. If you receive a settlement check worth $100,000, your car accident lawyer would get approximately $33,000-$40,000.
The good news is that you'll pay this amount only after your car accident lawyer confirms that you've received a recovery. Thus, you don't need to worry about how to pay legal fees.
There may also be pre-court expenses that vary with each case. These expenses cover the costs of obtaining medical records, CCTV footage of the accident scene, and compiling your medical bills plus financial statements for compensation.
We will cover all of these costs for you when we take your case so you don't have to incur the initial expense. Again, no expenses will be deducted until we make a recovery in your case.
What is the average settlement for a car accident in Georgia?
In Georgia, the average car accident settlement is $21,600. This includes both property damage and bodily injury claims.
The average settlement for property damage claims is $5,900, while the average settlement for bodily injury claims is $15,700. These numbers are based on data from the Insurance Information Institute.
When making a car accident claim in Georgia, it is important to keep in mind that each case is unique and settlements will vary depending on the facts of the case.
For example, settlements will be higher if there are multiple injuries or if the accident resulted in death.
If you have been involved in a car accident, it is best to speak with an experienced car accident attorney to discuss your specific case and find out what you can expect in terms of a settlement.
Is Georgia a fault state for car accidents?
Georgia is not a fault state for car accidents. This means that if you are in an auto accident, your accident insurance will not cover your car if you are at fault.
If you are at fault for the accident, you will be responsible for repairing or replacing the other car.
In a no-fault state, each driver's own car insurance company covers their own damages and injuries regardless of who caused the accident. This type of insurance is designed to prevent drivers from suing each other after an auto accident. Georgia is one of twelve states that have no-fault car insurance laws.
Can you get compensation if the accident was your fault Georgia?
In the state of Georgia, car accident victims may be able to receive compensation even if they were at fault for the auto accident.
This is because Georgia follows a "modified comparative negligence" rule, which allows victims to recover damages as long as they were less than 50% at fault for the auto accident.
For example, if a victim was rear-ended by another car and sustained $10,000 in damages, but an investigation found that the victim was 20% at fault for the car accident because they were not properly maintaining their brakes, the victim would still be able to recover $8,000 from the other driver.
Contact The Alpharetta Car Accident Lawyers At The Fitzpatrick Firm Today
When you choose The Fitzpatrick Firm, you are guaranteed that your car accident attorney will put your medical, financial, and emotional needs at the forefront of every decision made. From assisting with the insurance company and filing medical expense claims to holding the negligent driver accountable, your Alpharetta car accident lawyer will help you every step of the way in fighting for justice on your behalf.
Award-Winning Atlanta Injury Law Attorneys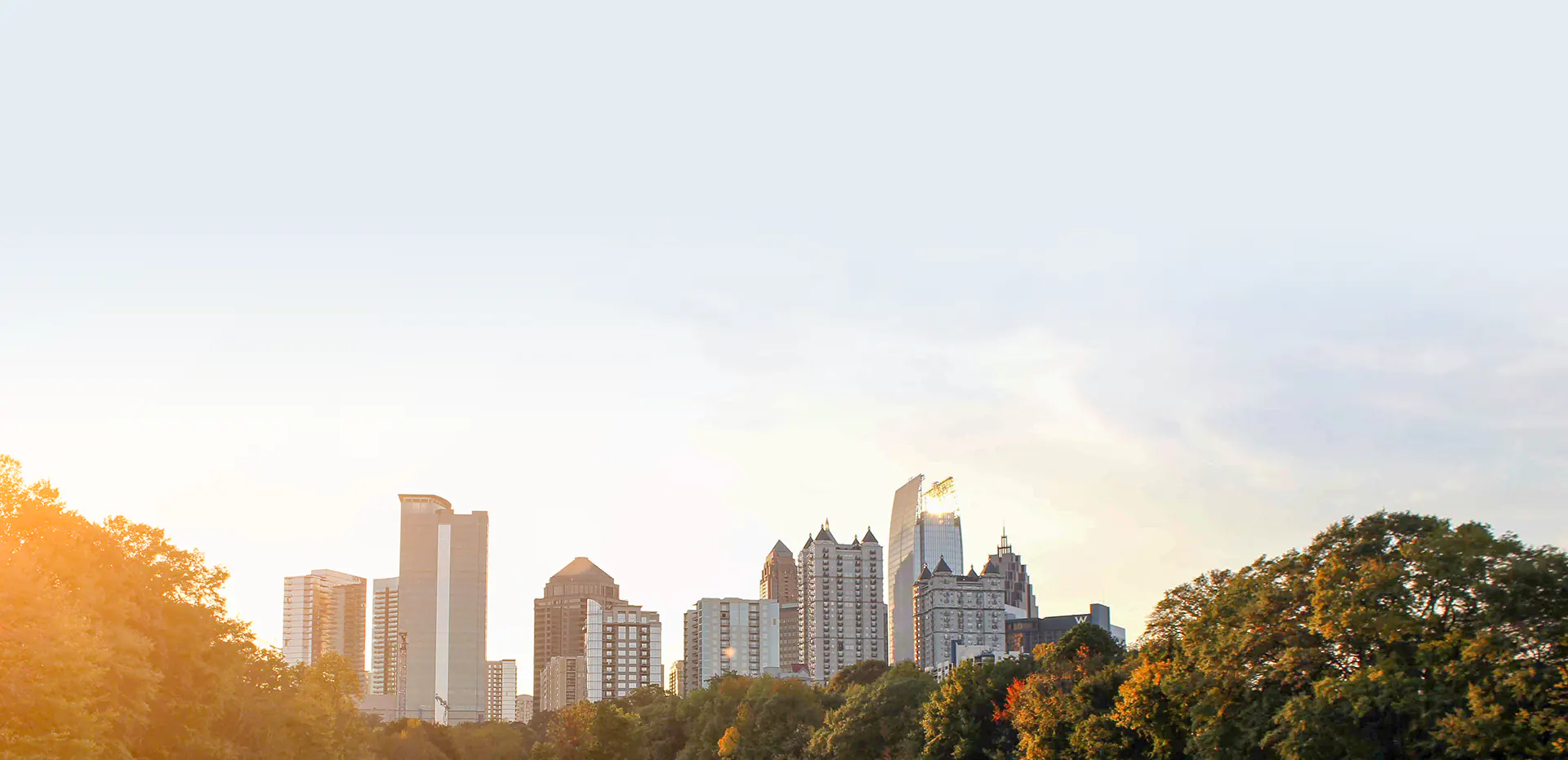 Schedule A Free Car Accident Case Review With Our Car Accident Attorneys
If you or a family member have been injured in an auto accident, let our Atlanta car accident lawyers fight for your rights. Contact one of our attorneys immediately to get your best chance at recovering money for your injuries.